Банки и финансы №_12_2020 (284), декабрь 2020
Anna Akhalkatsi: Moldova is a leader in open corporate data ranking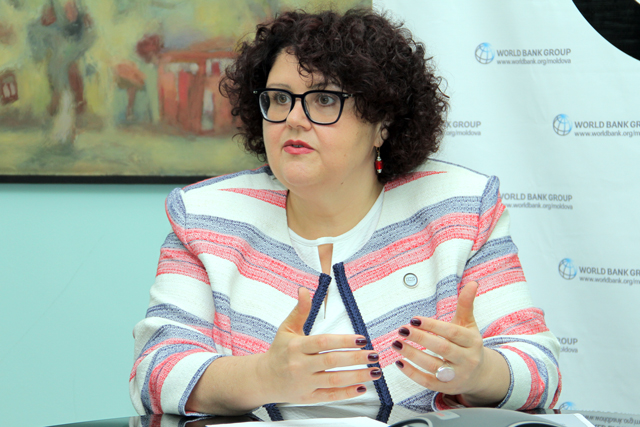 Exclusive interview given by World Bank Country Manager for Republic of Moldova, Anna Akhalkatsi to the news agency INFOTAG.
I.: The eGovernance Agency of the Republic of Moldova, which was established with the direct support of the World Bank Group, is celebrating its 10th anniversary. What was achieved from what has been envisaged from the very beginning and what is still to be achieved?

Anna Akhalkatsi: 10 years of the World Bank Group's collaboration with eGovernance Agency have been very fruitful and transformational and I would like to congratulate the team with exceptional results achieved over this decade. Between 2011-2016, as part of Governance e-Transformation Project, Moldovan Authorities with the support of the World Bank Group established the institutional architecture and strategic framework to guide the e-transformation. The e-Governance Center (as named at that time) took the lead on public sector digitization. A number of platforms were created to enable a more efficient, transparent and accountable government, as well as citizen and business-centric e-services, to name a few: public services portal; open government data portal, MCloud, MPay, MSign, MPass, MConnect etc.

Still, there is a lot to be done and to further support government's efforts, we are implementing a follow-up – Modernization of Government Services project which was launched in 2018. Based on the enablers developed under the previous project the most interesting part is currently under development - services for business and citizens. More than 80 services are currently in the process of modernization, such as social assistance services, business registration, civil status documentation and many other.

I.: For electronic transformation in the area of public services' management and modernization, the World Bank Group provided a loan for "Modernization of Government Services" Project. How are the bank resources of $22,4 mln. used, from the creditor's point of view?

A.A.: Our financial assistance in the framework of Modernization of Government Services project is totalling $20 million. Probably it's important to mention that the Government is contributing to another $2.4 million to this project. The funds are used according to their intended purpose – for modernization of government services. Before the project started, the state's information resources contained insufficient information about public services. Moreover, no one knew exactly how many public services the state provided, and most of the available information was full of errors and inconsistencies. Only a few simple electronic services were available online.

Information about public services was scattered through several, so-called, portals each with its style and manner of presenting the information. Now you can find all the information about services on the public services portal. The project conducted an inventory of all services and based on Government priorities the project will do the state of art modernization of some selected services, such as unemployment allowances, determination of disabilities and payment of the allowances for disabilities, business registration and other. And this is more than just digitalization. No service is digitized until the processes behind those services are simplified through their rethinking (re-engineering), to reduce the number of required documents or steps to be taken to receive the services. We want to avoid digitalization of obsolete and inefficient processes.

I.: During its existence, the agency has introduced and used in practice dozens of services in the area of digital innovation. Tens of thousands of Moldova citizens have today access to and understand such platforms as MConnect, MPay, MPass, MLog, mobile signature, MCloud, servicii.gov.md and date.gov.md portals, and many other. From all this list, what does the Word Bank Group consider to be the most significant, important and relevant for citizens and the state?

A.A.: The most important is the creation of an enabling environment: institutional; strategic, legislative and technological frameworks that would allow further modernization of the entire public sector through the implementation of digital solutions. And for us, it is most important that citizens and businesses are feeling this transformation, by accessing and paying the services remotely, by not staying in queues, by not losing time on collecting documents from various agencies, for companies - by submitting on-line reports or doing remote registration of their business. This is very important for us and that's why we are here to support this effort. Our investments of the past in these areas paid back a hundred times during COVID-19 lockdown when many citizens and businesses were able to continue to access critical public service online thanks to e-government capabilities.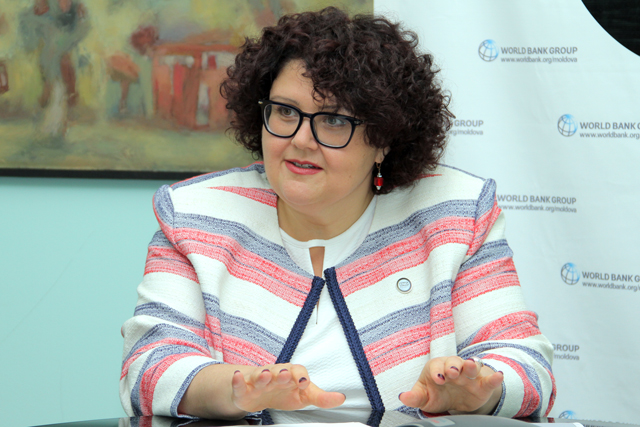 I.: How is Moldova ranked in the Open Corporate Data Barometer, especially in relation to Open Company Data Index? Is it true that Moldova is in second place in the world in relation to the openness of corporate data?

A.A.: On OCDI - http://registries.opencorporates.com/ To our great satisfaction and pride, Moldova is ranking first, but with similar points as the UK. It is very encouraging that in this particular ranking Moldova is top among such neighbours. This is due to the government's effort in opening government data. Moldova is among the few countries that published all companies' data, including the information on founders and owners. If properly used, you can track some interesting affiliations in case of public procurements for example. This is a good score, but it requires constant undertaking but the government to invest in transparency and accountability.

I.: The World Bank Group has included Moldova's experience in the e-transformation area as an experience to be shared with countries from Europe and Central Asia. Would you please characterize simply, clearly and briefly the "Moldovan experience″, how useful is it to be taken on board by other countries?

A.A.: Indeed, Moldova was one of the pioneers in the region on its Government e-Transformation. Many countries are only now starting to think about the problems that Moldova started to tackle 10 years ago, such as Cloud solutions for Government, Interoperability, Mobile Signature. Moldova has tremendous experience which can be shared with other countries, successes to be followed and mistakes to be avoided. In fact, this is happening. Only two weeks ago the EGovernance Agency specialists participated in an event organized for public institutions in the Philippines, where they featured Moldova's experience of digital transformation as a best practice experience and a tool of good governance.

I.: How do you perceive the further development of the eGovernance Agency? What is important for such a public structure in the state to do in the mid- and long term?

A.A.: The upgrade of e-Government Center into e-Governance Agency strengthened its inter-sectorial mandate. Direct subordination to the Prime-Minister also helps to promote the change. Recently eGA was entitled to validate public procurements in IT and this is another step in the right direction. The eGA needs to strengthen its communication wing so that the people know about implemented solutions so that they can use all of them at full extent. The eGA needs to establish its robust financial sustainability to keep attracting talented people. Another important element is the future vision and application of disruptive technologies such as AI, blockchain, IoT, BigData, machine learning and others. Technologies are evolving very fast and eGA should keep the pace and not being stuck with using solutions that were modern 10 years ago. Additionally, the localization of e-transformation agenda should become one of the main eGA's priorities. Implemented digital solutions should expand from central to local authorities, and the services should be accessible even in the most remote areas.

I.: The ordinary citizen always wants for the state to solve his/her daily problems in a prompt, comfortable and convenient manner. How should the state modernize its service for the citizens using their digitalization and reengineering?

A.A.: First, the state should have a services portal to be used as a single-entry point by citizens and business, and Moldova has one. The portal should contain information about all, and each separate service so-called service passport. The portal should be user- friendly and easy to navigate.

Second, the Government should do its prioritization which services are to be modernized in the first, second and following phases.

Modernization of services is an expensive process and therefore the Government needs to be selective and start modernization with the most critical services. And as mentioned above, no service should be digitized before the process is streamlined through its re-engineering. This is a must.

Third, digital services are self-served, if you are well equipped and have the knowledge. But we should not forget about vulnerable groups that might lack a computer or internet connection. For those, the state should create points of assisted service delivery at the local level, were people in need can receive all the assistance in getting a public service. Our project in collaboration with local authorities is planning to implement 80 of such points of assisted services delivery in the rural areas. This way we will bring digital services closer to people.

All elements listed above are supported by World Bank's Modernization of Government Services Project.

I.: Digitalization of state services implies receiving certain data about citizens, hence it is necessary to have a level of trust from the population. How to ensure information confidentiality during the electronic transformation process?

A.A.: Cybersecurity and data protection are an indispensable part of digital transformation. We are paying special attention to these aspects. All solutions developed under the project are compliant with cybersecurity and data protection requirements.

I.: What in your opinion would be the most obvious and standing out aspect, when comparing e-governance in Moldova with that from Estonia or Georgia, for instance?

A.A.: I think that Moldova learns from others mistakes and moves very fast. If Estonia is among European Leaders and Georgia is a leader in South Caucasus, then Moldova is definitely a leader in South-East Europe. And in some aspects, Moldova is the global leader – and let me bring here two examples to prove this.

First, mentioned already, Moldova has first place in the open corporate data ranking and second, Moldova is among the first countries in the world to implement the MobileID. Congratulations again to eGovernance team and as we say in Moldova: La mai mult şi la mai mare!

I.: Thank you for the interview!■